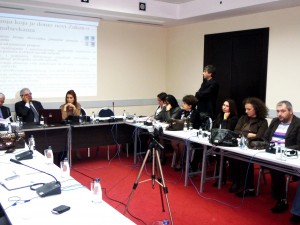 How To Win Your Ex Girlfriend Back and
text your ex back free or
how to get your ex back Get Ex Girlfriend Back

how to get your ex girlfriend back
getting my x girl friend back, Text Your Ex Back, etc.
   U hotelu City, dana 3. novembra održana je radionica na temu "Okvirni sporazum i centralizovane javne nabavke" u Evropskoj Uniji i Hrvatskoj.
    Radionicu je organizovana od strane Direkicije za javne nabavke i SIGME.
    Na osnovu SIGMA studije o centralizovanim nabavkama i primjera Uprave za centralizovane nabavke Hrvatske, svrha radionice je razmjena iskustava i slobodna diskusija o različitim aspektima okvirnog sporazuma i radu centralizovanih organa za nabavke u praksi. Cilj je da se stekne razumijevanje o tome kako da se počne sa dodjelom okvirnih sporazuma i kako da se uspješno razviju i organizuju organi za centralizovane nabavke.
Direktor Direkcije  G-din Mersad Mujević je u uvodnoj riječi predstavio  Novi Zakon o javnim nabavkama, ciljeve Vlade i glavne izmjene koje su  istim donešene.
Predstavnici SIGME G-din Peder Blomberg i G-din Yves Allain govorili su upotrebi i svrsi okvirnog sporazuma kao i o primjeni istog u Evropskoj Uniji.
Zamjenica direktora Uprave za centralizovane nabavke(CPO) Hrvatske, G-dja Ivančica Franjković odžala je  prezentaciju o pojmu objedninjenih  nabavki i organa za centralizovane nabavke, o  iskustvu Hrvatske  vezano za osnivanje i rad istog.
Pored predstavnika Direkcije za javne nabavke Crne Gore, na radionici su aktivno učešće imali i predstavnici državnih organa, akcionarskih društava, revizorske institucije, privredne komore i drugih.