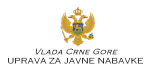 Within its participation at the Fair of Practices 2011, held on 10 November 2011 in the shopping centre ''Mall of Montenegro'' in Podgorica, the Public Procurement Administration of Montenegro expressed a willingness to admit five successful and ambitious students of legal, economic and social sciences for practical training.
"The Public Procurement Administration is very much pleased to welcome five young and successful students, whom we accept gladly and to whom we are going to transfer the basic knowledge and skills necessary for work in the public procurement field, and, in return, we are even more pleased to receive their knowledge, enthusiasm and ambition'', the Director of the PPA Mr. Mersad Mujević said in the opening address on the occasion of admission of the new trainees.
Public Procurement Administration is particularly interested in the students of Law, Economy and other social sciences, because these are the educational profiles that would be enabled by the PPA to better understand the public procurement system in Montenegro and to acquire valuable practical experience in this field…
The Fair was held within the Program of Practice organized by the Human Resources Management Authority of Montenegro and the Career Team. The goal of the Program is to allow young people at the final years of their studies an opportunity to have a three-months practice in the state administration bodies or private companies, starting from 1 February 2012.