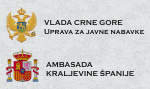 On September 23, 2014 the meeting held in the premises of the PPA with the representative to the trade and economic Department in the Embassy of Spain in Belgrade, Mr Esteban Camacho Torregroso, an associate of trade. The meeting was conducted by the Director of the PPA, DSc Mersad Mujević, in attendance of the Assistant to Director, Mrs Mara Bogavac, and the Head of the Department for professional development, training and international cooperation in public procurement field, Ms Sandra Škatarić.
The topic of the discussion was the timeline view of the development of dynamics to the pp system in Montenegro, introduction to the functioning of the public procurement portal and update of the information therein on a daily base.
Also, the current position of Montenegro towards the European Integration presented within the sector of the public procurement policy, primarily the status of the negotiation position of Montenegro for the Chapter 5 – Public Procurement, and of the closing chapter measures provided by the European Commission.
The representative of the Embassy of Spain in Belgrade was informed on activities concerning the draft Law amending the Law on Public Procurement ("OG of MNE,42/11), as well as on further plans regarding the introduction of the electronic public procurement system in Montenegro by the Project that would be financed by the Delegation to the EU in Montenegro.
Main intention of the Spanish Embassy just related to the better introduction to the public procurement procedures in Montenegro, and as Mr Esteban Camacho Torregroso stated himself to the initiation of the idea for cooperation of the Spanish entrepreneurs with the Montenegrin suppliers in energy and construction industry. It was concluded that the absence of the Embassy of Spain in Montenegro is perhaps a certain barrier bearing in mind that in Montenegro, "prevails other mentality and less envy when it comes to foreign investment"
In order to deepen future cooperation it was proposed a round table to be organized by the Chambers of Economy of Montenegro and Spain by which interactive discussion they would define goals and provide guidance for future cooperation.