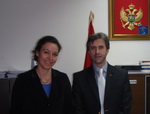 In purpose of obtaining more information on status of public procurement in Montenegro, challenges faced by the Public Procurement Administration and the progress achieved within the scope of European integrations in public procurement field, the Deputy Ambassador of the Netherlands, Ms. Dominique Kuhling visited the Public Procurement Administration.
Ms. Dominique Kuhling expressed her interest in public procurement area in Montenegro and her wish to get more familiar with the capacities of the Public Procurement Administration and its cooperation with other institutions in Montenegro.
As representatives of the Dutch Monarchy, the guests stated that they advocate and support centralization of Chapters 23 and 24.
Director of the Public Procurement Administration DSc Mersad Mujević introduced the Deputy Ambassador to the opportunities provided by the Montenegrin Public Procurement Law.
The public procurement field is one of the most significant ones in the EU integration process. In purpose of harmonization of Montenegrin legislative framework with the EU acquis, within the Project IPA 2007 and with support by the European Commission, a new Public Procurement Law was prepared and it entered into force on 1 January 2012. Adoption of the new Law was aimed at removal of deficiencies observed in the practice so far.
On this occasion, both sides at the meeting expressed their satisfaction with the fact that the new Public Procurement Law created all legal prerequisites for ensuring complete observance of public procurement principles in a best possible manner.
Representatives of the EC, at the bilateral analytical review of legislation for Negotiation Chapter 5 held in Brussels on 19 November 2012, where the level of compliance of Montenegrin legal system with the EU acquis was presented, expressed their approval on the quality of prepared materials and presentations by the members of the Working Group. They also stated that the Montenegrin regulations in this field are greatly harmonized with the EU regulations and that the focus in the forthcoming stage should be at implementation of those regulations and capacity strengthening.
At the meeting, an agreement was reached and potential solutions for mutual cooperation and monitoring were presented, all in purpose of better adjustment to the requirements of the European Union, through realization of the Dutch Program MATRA which made its first effects implemented in Croatia.
PR Service of the Public Procurement Administration